Fiverr is the top most digital marketplaces to make money working from home.
How to make money on Fiverr guide for beginners
The Internet is loaded with opportunities.
When it comes to making money on Fiverr you explore the creative side of you.
You probably had no idea that I am also good at something which I recently found out.
Thanks to Fiverr.
It would not have been possible some 20 years back where you can literally buy and sell services on digital marketplaces.
The digital marketplace (Fiverr) is the driving force in transposing the freelance economy online.
In the US alone there are 57 million freelance workers.
There are plenty of options to start freelancing on Fiverr. You can make money on Fiverr selling services.
Content writing, proofreading, transcription, graphic designing, SEO, translation, marketing, and virtual assistant are popular gigs.
Freelance workers earn more than $ 75000 UDS a year making it 31% of the workforce.
There has been an increase in demand for freelancing and more workers are leaving the 9-5 grinding choosing a flexible freelance career.
Popular Freelancer Jobs
In almost every industry people are looking for freelance jobs.
The arts and design industry has the maximum workers making it at 75%.
55% of freelance workers are in the filed of entertainment.
A copywriter earns up to $250 an hour.
Graphic designing is more lucrative than content writing on Upwork earning $150 USD an hour on average.
Some other popular freelance jobs include social media manager, web developer, teacher, marketing, proofreading,
translation, transcription, photography, SEO, data entry, and e-commerce.
Fiverr
Fiverr was founded in 2010 and has more than 7 million registered users.
You can buy and sell services starting at $5
Web developers, illustration, video animators, writers, marketers, and social media managers make up most of the regular freelancers on the site.
Its an open marketplace allowing businesses and individuals to buy and sell services.
What is Fiverr?
Fiverr is the most popular digital marketplace where you can buy and sell services make money working from home.
They provide a wide array of services, projects where you can offer your services to the clients, and charge accordingly.
Since its inception in 2010, it has grown into a million-dollar industry that has shaped the freelancing industry into another realm.
There are many gigs you can see on their platform from digital marketing, proofreading, transcription, article writing, and editing.
Every GIG offered is termed as services offered by individuals.
They have something for every individuals that matches their skillset If you have not yet signed up on Fiverr.
Go to Fiverr and register for an account.
"This post may contain affiliate links which means if you buy or sign up using the link provided I may earn a commission"
Join Fiverr Now
If you have something which you can help other people with then start offering your services by joining Fiverr.
It's a simple process to register on Fiverr that is completely free and with a good profile, you will start receiving job offers.
Fill up all the required details for an outstanding seller profile and the more experienced you are higher will be your earnings.
In order to start receiving orders you will have to create stunning GIGS.
So, let's create your First Gig.
If you are acquainted with SEO and how it works. I am sure you won't to have a problem coming up with a catchy title.
On the seller, dashboard click on the create a Gig button and start giving it a nice attractive title.
Like you can see here " I will do SEO article writing and blog post writing for you"
Few examples:-
"I will write blog or website content"
"I will write dynamic content for your website"
Select the right category Writing and translation
Subcategory article and blog post
Now mention related tags which represents your gig(service).
Article writing
Blog writing
Content writing
Select the language in which you want to provide services to the potential clients.
Pricing of your package
You will have to price the services each divided into three different sections. Keep it minimum in the beginning and go high as you gain more experience.
Description of your Gig.
Write an appealing description that is enough to attract customers this is a must. You have to mention what services you provide and your expertise.
Check out some of the popular gigs and get an overview to device the best possible description.
Gallery
Get a nice image that mentions what services you provide and also add a video. The video increases engagement and can help you land your first job.
Publish your gig.
The best way to make money on Fiverr
Best selling gigs on Fiverr.
Graphic design – Design speaks for a particular brand or identity in a more profound way.
If you consider yourself to be the one who can create stunning design.
Go to fiverr and get some inspiration from the best graphic design gigs.
Website design – I am learning to make a WordPress website but
it would be great if someone can design a eye-catching website for me.
There is a whole lot of expert web designers offering services,
want to do something similar go to fiverr now.
Video creator – White board animation is one of the top selling gig on fiverr,
if you are creative enough to design a unique promotional video for individual and business then this can be your opportunity to start.
Social media manager – Social media has become an integral part of everyone's life. No business can underestimate the potential of social networks.
It can help business grow exponentially and gives you the advantage to interact directly with potential customers.
Article writing – Everywhere you look you will see fine piece of written work billboards, placards, newspaper, websites and ads.
The need for content writers is more than ever, everyday new businesses are coming up online and has created a stream of opportunities. Thanks to digital marketplaces.
Voice over – Everything has a value even your voice.
you can juts record a professional voice over for your clients, businesses and make money. Check it out
Translation services – If you have good command in your native language and in another language. You can offer translation services for your clients.
Its a bilingual task where you generally translate a given language in other desired language.
Virtual assistance – To keep up with the digital work you require someone to handle your administrative tasks.
It can be email management, website management, writing, social media marketing. you can offer more than 150 services to your clients.
SEO – Its a strategic arrangement of keywords in a article keeping in mind the user's search intent.
If you are an expert in SEO consider providing services on digital marketplaces like fiverr.
Proofreading and editing – Proofreading is a method of making any written documents error-free.
If you are a grammar nerd then this can be for you.
Related posts
Promote your Gig
Now Spread the word.
Promoting your gig is the vital part in order to start getting orders on fiverr.
Never expect you will start getting orders right away unless you make it available to the right audience.
On every gig you create Fiverr gives you the opportunity to share it on email, Whatsapp, Linkedin, and Facebook.
There is a ton of Facebook groups dedicated to Fiverr freelancers, join those groups, and share an attractive post that brings engagement.
Share it with your friends and relatives, local agencies, startups, and every possible medium.
Ready to make money on Fiverr?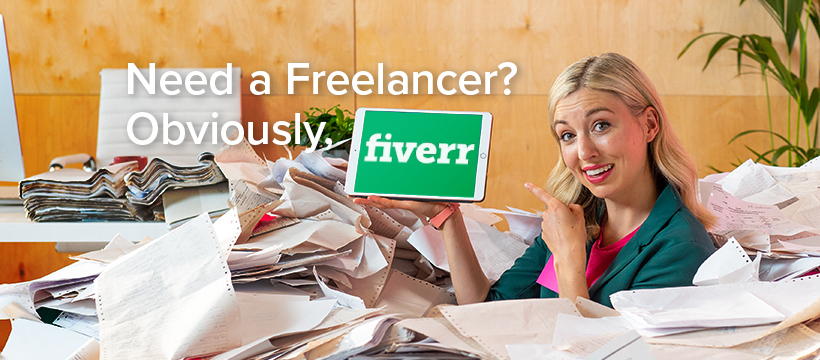 Here you have everything what is required to start making money on fiverr.
In the beginning it can be daunting but things are always not easy. The time and effort you will put will determine your freelance career.
Fiverr is the most popular marketplace that gives opportunities for beginners and experts to make money.
Register for an account and choose a particular category and excel in it.
Start low in the beginning and go high as you gain some experience.